Specific objective 2.3
To improve capacities for mobility planning in functional urban areas to lower CO2 emissions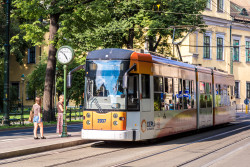 Transnational cooperation will help increasing planning capacities of the public sector and related entities for low-carbon mobility by bringing together fore-riders with territories lagging behind, thus enhancing low-carbon mobility in central European functional urban areas and reducing air pollution. This will allow for the development and implementation of integrated mobility concepts, the setting up of coordinated management structures and the deployment of innovative technologies. The promotion of innovative low-carbon mobility solutions at transnational level will support authorities in their efforts towards the goal of sustainable mobility.

Additional information about this funding objective is available in the Interreg CENTRAL EUROPE Cooperation Programme.

OUR PROJECTS
LAirA
LOW-CARB
MOVECIT
SMART COMMUTING
SOLEZ
SULPiTER


YOUR OPPORTUNITY
For more information on open calls for proposals visit our regularly updated application section.