Center for Sustainable Mobility in Kranj opened its doors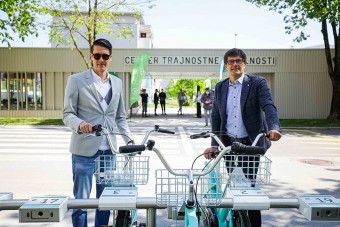 Slovenian city of Kranj, one of Citycircle's partners, has opened the newly built Center for Sustainable Mobility (CTM). The center has multiple purposes in the increasinly important field of sustainable mobility; something that will very soon, be a topic of prime importance for a lot of European cities. Kranj prides itself as a city on the cutting edge of development in this filed, not only in Slovenia, but in the broader region. 
CTM will provide the citizens and visitors of Kranj the opportunity to get the basic information on the use of sustainable ways of daily travel in and around the Municipality of Kranj and register in the system for renting bicycles or sharing vehicles. At the same time, it will be a fast bike repair shop with occasional workshops in the field of sustainable mobility. The centre is intended to be used by all users of public transport, cyclists, pedestrians, the disabled and users of vehicle sharing, and parking and tourist information will also be available.
The opening of the Center for Sustainable Mobility is the final act of the project worth just under 2 million € of the Cycling Connection in Kranj 1-6. With almost nine kilometers (8.8 kilometers) of cycling and pedestrian infrastructure in individual neighborhoods of Kranj and its surroundings, Kranj has now received a modern cycling rest area with a bicycle shed and an info point to promote the use of sustainable ways of daily travel in Kranj and surroundings.

Source: https://www.kranj.si/center-trajnostne-mobilnosti-odprl-svoja-vrata (SLO)